Today's generation is aware of a healthier alternative for potato chips – corn-based Nachos! Preference for Nachos has grown by leaps and bounds across the country and Salsalito's exciting range has also stoked more interest!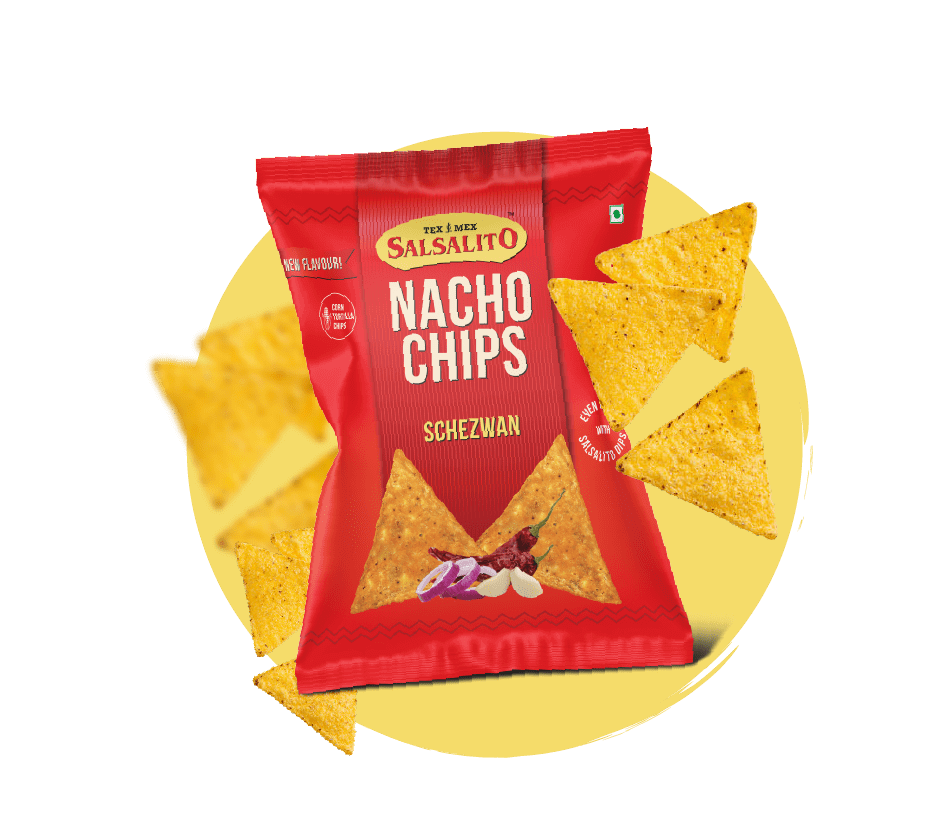 Why stick to one when two can do the job! Come, savour the irresistible combination of Nacho Chips and Salsa Dips to make your snack time extra awesome. Available in three flavours:Zesty Jalapeno, Peri Peri and Creamy Cheese!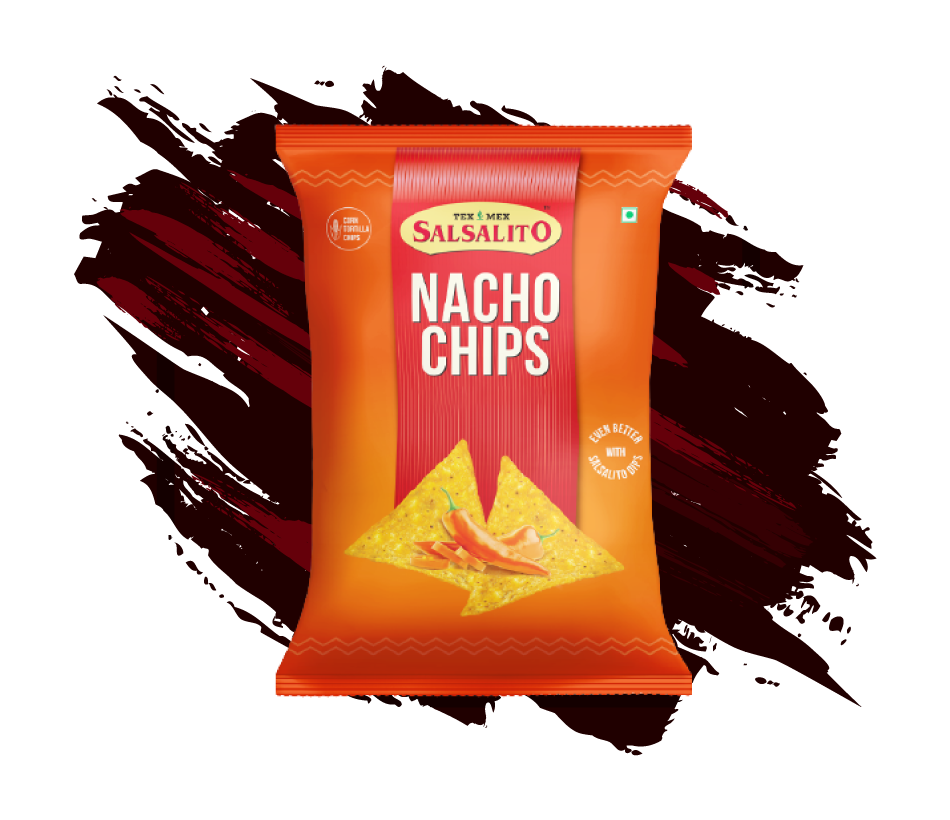 FLAVOURS
ZESTY JALAPENO

What is Mexican food without jalapeno? Tangy, spicy and everything in between, Zesty Jalapeno promises a mouthwatering affair with nachos.

MEXICAN CHILLI

Salsalito's Mexican Chilli Nachos brings you chillies – in well, Mexican style. The flamboyance and panache of Mexico sizzles and bubbles in every bit.

CLASSIC SALTED

Experience an authentic taste of Mexico with lightly salted Nacho Chips in a classic round shape. Just right for an easy mouthful. Add your own toppings or use them to scoop up Salsalito Salsa Dip.

CRUNCHY PIZZA

What's your favourite pizza? It's the crunchy one, of course! Crash on the couch, turn on the sports channel and dig into some Crunchy Pizza flavoured Nachos from Salsalito! Crispy bites that keep your mouth watering and mind blown, this is perfect for a post-noon chill out session.

CAJUN MASALA

Bite into the exotic Cajun Masala nacho that takes its name from the Cajun culture, belonging to southern part of America. Welcome home the magic of the unique combination of pepper, thyme, basil and oregano.

OLIVE & HERBS

The bittersweet flavour of olives blend beautifully with a multitude of herbs to form the perfect seasoning for nachos. Explore the tang that Olive & Herbs nachos give your taste buds, matched only by sheer crunchiness.

SIZZLIN

'

SCHEZWAN

Something exotic in your mind? You bet we give you more than you bargained for. Gorge into Schezwan-flavoured Nachos from Salsalito that takes you all the way to China, through the spice route!

PERI PERI

The African drums will now thrum in your taste buds, with Peri Peri-flavoured nachos. Let the strong African Bird's Eye chilli take you on a delicious joyride with every bit.

CREAMY CHEESE

Make your taste buds tingle with Salsalito's Creamy Cheese Nachos. Crunchiness and a flavour of creamy cheese in each triangular Nacho, makes sure that you reach for another bite.
TRY OUR NACHOS RECIPES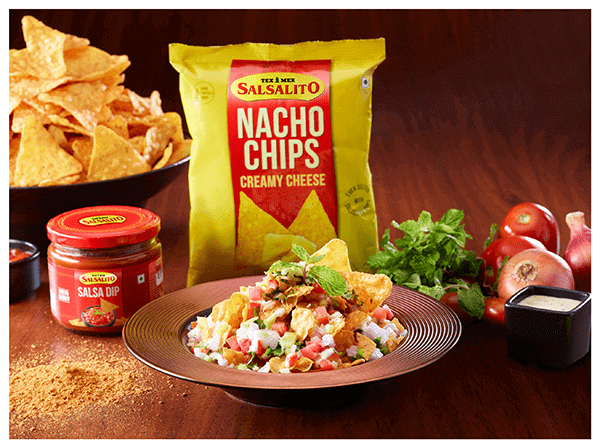 NACHOS BHEL
In the mood for an enthralling evening snack? Skip the Bhel, cut open a pack of Creamy Cheese Nachos chips, crush them and throw in some veggies for a spicy, desi chaat twist! After all, chaat is all about fresh flavours!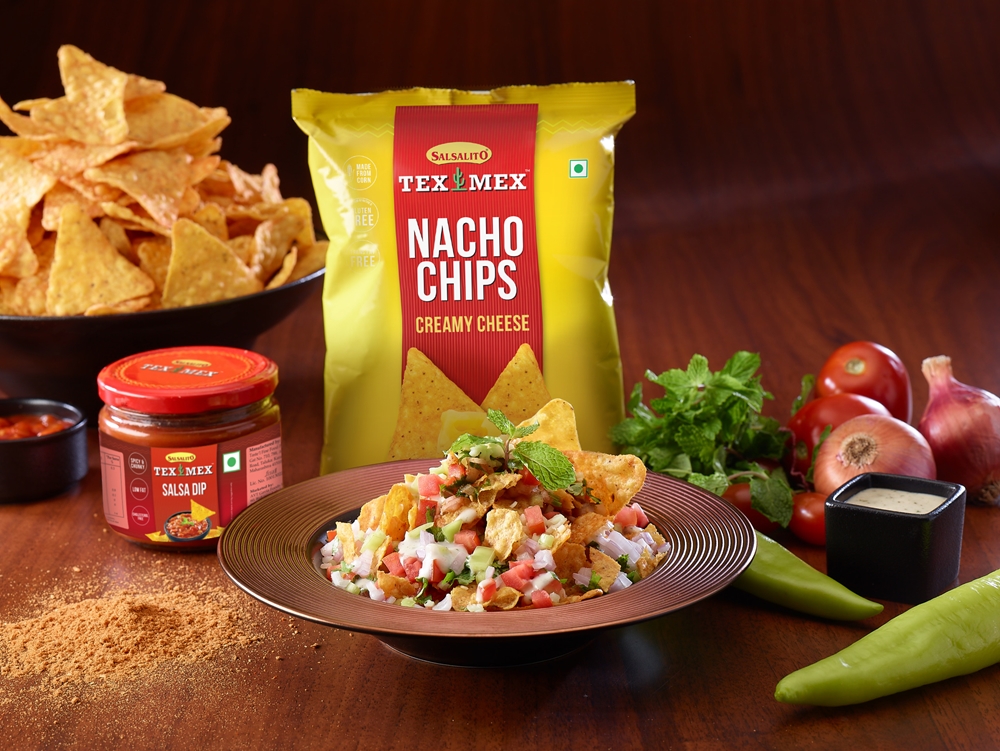 NACHOS CRUSTED CRISPY CHICKEN
Crispy chicken tastes better with crusts of Nachos - and some Salsalito Fajita Seasoning Mix! Chicken breast, seasoned with Fajita mix and crusted with Nachos crumbs is the very definition of 'indulgence'. Crunch on, then!